High-precision Welding & Assembly Services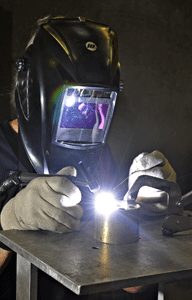 Our employees and facilities are certified for multiple processes including pulsed and short-arc MIG welding, as well as TIG welding. We have the expertise to understand how metals react under different heat ranges and weld structures. We work with our customers to identify welding types and document system builds for repeatability.
Certified AWS D1.1 and AWS D14.1
GTAW Stainless/Mild Steel/Aluminum
GMAW Stainless/Mild Steel/Aluminum
Spray and Pulse arc welding
Light/Medium positioner work
We have successfully produced large structures, as well as small, intricate fabricated parts. We put high value on our tooling for ease of build and accuracy. For instance, recently working with a customer on a sheet metal cabinet, we reconfigured their engineering drawings for producability, which resulted in a simpler build and higher integrity product.