EMI is Your Top Choice for Waterjet Cutting & Precision Machining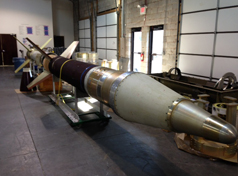 Experimental Machine, Inc. (EMI) is a premier supplier of composite and machined structures, RF components and assembled products.
We have been in business since 1975, serving both DoD and commercial customers.  During these years, our business has grown from a single machine shop to a large facility offering a full range of capabilities, including 5-axis machining, composites, waterjet cutting, welding and assemblies.
There is a Reason Why Customers Choose Us Time After Time
Expertise in manufacturability and productization.
Partnership with our customers to reduce operational hours while increasing the integrity of the product.
Demonstrated capability for weight reduction, integrity improvement and other feature enhancements in product designs.
We work with our customers in a partnership approach, looking for long-term relationships and repeat business.  We have taken numerous designs through productization, eliminating significant cost through smarter manufacturing approach and balancing tolerances with design intent. Get in touch to see how we can help you with your project.