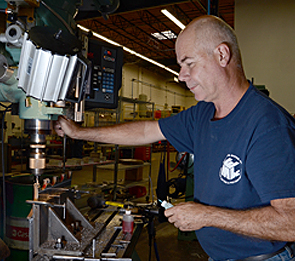 EMI has been in business since 1975 serving both military and commercial customers.  We offer a full range of manufacturing services from prototyping to production. We work in partnership with our customers to drive producibility into the products resulting in the highest integrity part at the lowest cost.
EMI has experience with a wide range of products varying in size and complexity
metallic structures and composite edges for sounding rockets that are designed for Mach 8
large aluminum welded assemblies for mobile hospitals
large composite radomes for TPQ-37 Fire Finder Radar
water tight epoxy sonar components for the Fast Attack Submarines
composite radomes and cooling hoods for long endurance air unmanned aircraft
Our 25,000 sq ft facility is located in New Freedom, PA, and has a full breadth of manufacturing outfitted with 5-axis machines, bonding area, clean room, autoclave, oven, waterjets, paint booth, finishing booth, and inspection area.  We have enjoyed considerable growth doubling in size over the past two years.
Our Certifications
AS9100D/ISO 9001:2015
Certificate Number: C562125
Expiry Date: 06/15/2024
A copy of the certificate is available upon request.